Providing precise applications in metalworking and woodworking, the CNC Router Machine has cemented its place as an important part of the manufacturing scene. This important piece of equipment has come a long way since its inception in the 1940s, with the industrial revolution, IoT (Internet of Things), and innovative technology making CNC routers more accurate, efficient, and automated. There has been a significant expansion of use cases for the CNC router as well, helping to grow this market to an estimated value of $4.28 billion in 2023. So what is the new technology in CNC? Buckle up as we explore the most exciting prospects and technological advancements for CNC routers. 
The 5-axis CNC router machine
For a long time, the 3-axis CNC milling machine has been the order of the day. This device allows measured cutting along three planes simultaneously, namely the X, Y & Z axes. 
Today, 5-axis designs are cropping up and making a case for the best CNC routers of the modern era. They allow for extra movements along the three initial axes we mentioned above as well as the two additional rotary axes, namely A and B. The B-axis involves revolution around the Y-axis while the A-axis involves revolution around the X-axis. 
Multi-axis CNC routers are fast taking over across the globe, due to the superiority they afford over the traditional 3-axis CNC router machine, such as: 
Higher speed of production

More flexibility in creating complex shapes 

Higher-quality of surface finishes

No extra setup 
Besides the 5-axis model, the 4-axis CNC router is also a popular design today, allowing for movements across the three traditional linear planes as well as the A-axis.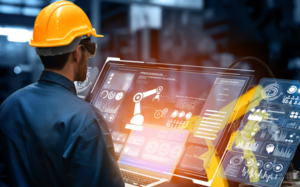 AI and CNC machining 
Artificial intelligence and CNC routers are a match made in heaven. Intelligent technology involving machine learning is transforming how automatic CNC routers work as we know them, reducing downtime and using vast amounts of data to ensure the continual optimization of the tool's performance or machining process. 
For instance, adaptive control technology keeps taking into account real-time metrics such as spindle power, thus enabling real-time regulation of the cutting force to ensure better outcomes. Intelligent technology is also helping in self-repair and automatic fault diagnosis for these machines, ensuring little downtime. 
Moreover, AI has enabled direct automation in CNC manufacturing, taking over tedious, iterative tasks that were previously handled by humans. This has ensured greater productivity in the workflow as well as fewer errors overall. Collaborative robots (Cobots) are also gaining increasing roles in CNC milling, helping to realize round-the-clock production. 
Voice-operated CNC machinery 
Virtual assistants such as Siri and Alex have soared in recent years, with voice-assisted technology finding applications across domestic households as well as in the machining industry. Voice-commanded automatic CNC routers are becoming commonplace across the industry, providing a far more efficient and safer way for human CNC machinists to control the tool's operation.
Dubbed the "Siri of the machining world," Athena is a great example of voice-operated technology in action as far as CNC milling is considered. This software allows users to control CNC routers by way of text and voice instructions, essentially allowing machinists to "talk to their tools."
The emergence of voice-command CNC has been spurred by another growing facet of AI, known as natural language processing. While voice-assisted CNC technology is still fairly new and hasn't caught on just yet, it shows tremendous potential due to the unique advantages it provides such as: 
Increased worker safety as it eliminates close proximity machine operation

More productivity for CNC machinists due to greater efficiency 

Smoother CNC milling learning curve for new operators

Ability to perform complex machine functions faster, thus saving time
As voice technology grows, we will also see a considerable change in the CNC router machine design as these tools start incorporating fewer keys or buttons. This miniaturization of the control system will translate to even more user-friendliness. 
Advanced CAM/CAD software
If you can think of the actual CNC milling machine as the muscle, the CAD-CAM software would be the brains behind the operation. Computer-aided manufacturing (CAM) and computer-aided design (CAD) have undergone significant changes as CNC programming incorporates modern capabilities and real-time feedback. 
For legacy CAD software, a machinist would have to reprogram the machine anew whenever there were any slight design changes. Modern CAD/CAM software is changing that by enabling real-time adjustments that don't require operators to go back to the drawing board with their reprogramming. This saves time and consequently boosts productivity. 
As CAD software has gotten more sophisticated, it's also become easier for operators to draft more complex designs. This has largely occurred due to the steady incorporation of automation in CNC programming. Moreover, the number of CAM/CAD software solutions has also increased exponentially, while hefty software costs have also been eliminated as the increased competitiveness has seen to the popularity of freemium solutions. 
3-D printing pairing with CNC machining
3-D printing has been godsent in manufacturing, more so in CNC milling where it is coming in handy more so for prototyping. Before going all in on large-scale production, operators can identify viable ideas prior to any significant time or financial investment. It, therefore, becomes easier to pick up problems with the design right at the preliminary stage. 
The amalgamation of CNC machining and 3D printing has resulted in: 
Greater customization 

Quick prototyping

More efficient production 

Lower material waste

Acceleration of lead times
3-D printing technology can serve as a precursor to mass production. In particular, operators can use the CAM software for design modification, leverage 3-D technology to print out the design, and the CNC machine can then take over from there. Machinists can quickly explore new ideas and then move on swiftly to full-scale production.
A cut above the rest. Industbay's ultra-modern CNC routers 
Voice control, automation, AI, and multi-axis machinery give us a good picture of the advances in technology and innovation for CNC routers. But there are many more exciting prospects to look forward to as well in CNC machinery. Keep ahead of the curve with Industbay, your #1 source of information for game-changing transformations in the world of industrial machinery. Industbay offers the best CNC routers for machine shops, which incorporate the latest technological advancements that are sure to elevate your workflow. Purchase automatic CNC routers from trusted sellers of industrial equipment on Industbay.